You want to go away for a few days or even a few weeks but your potted plants are going to need a friend or neighbor to come every few days to water them to make sure they don't die while you're away? Well, that is why self-watering garden pots come into their own! Here's my list of the 9 Best Self-Watering Garden Pots To Grow Food In 2021. No more worrying about your potted plants when you're away! It's also worth noting that supplying water to the plants from the bottom rather than from overhead, greatly reduces fungal and plant disease. This is why I prefer self-watering planters!
The 5 Best Self-watering Garden pots are…
Gardenix 5″ Self Watering Pots
Torsten Designer Self Watering Planter
Ebbcowry Self Watering Pots
DeElf 6 Pack Self Watering Planter
Growneer Hanging Self Watering Planter Basket
iGrowtek Self Watering Planter
Crescent Garden Modular Large Trough Planter Box
Rectangle Self Watering Planter
Windowsill Rectangular Self Watering Herb Garden
1# – Gardenix 5″ Self Watering Pots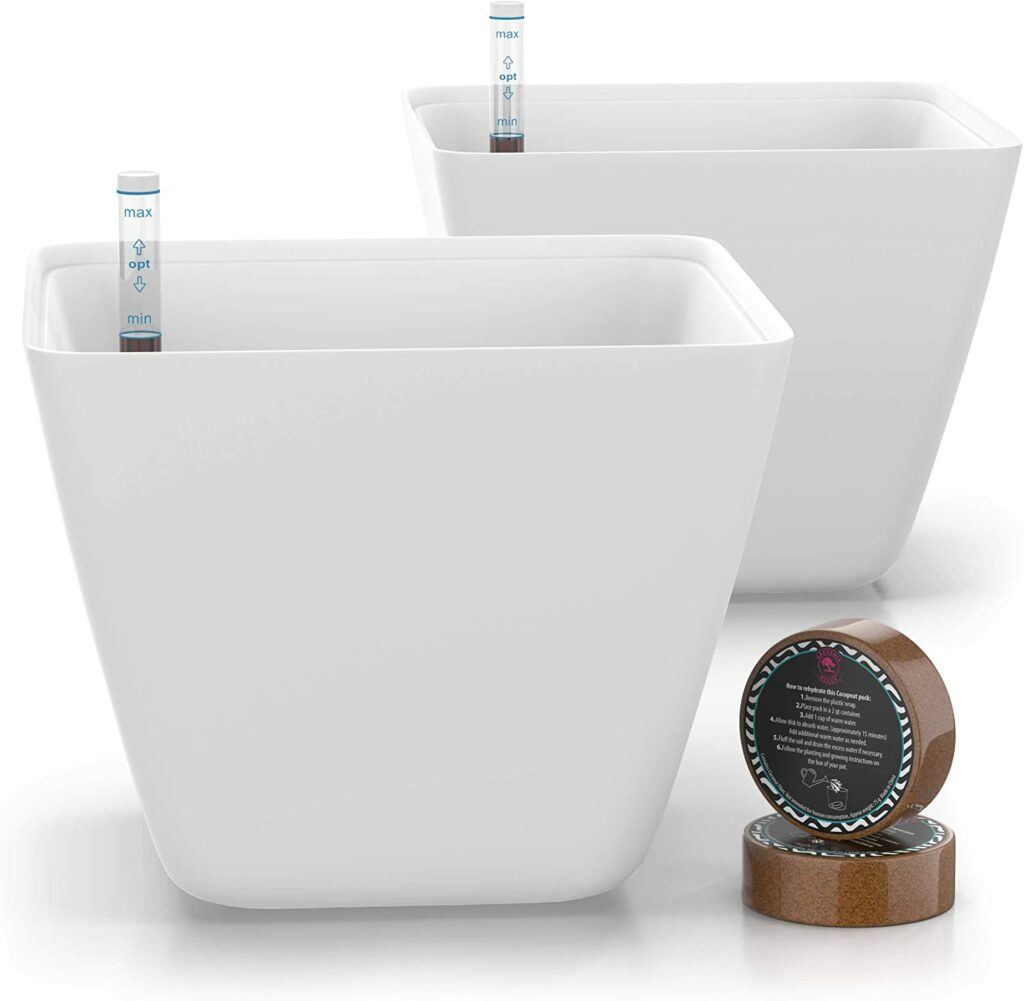 TOUGH – Gardenix Decor's Self Watering Pots are crafted out of high-quality polypropylene, and are virtually unbreakable. Available in white, gray, purple, or teal, the pot's colors are injected directly into the material, for long-lasting, vibrant colors more resistant to direct sunlight.
OUTLETS FOR DRAINAGE to avoid root rot. The nested pots in this set feature an inner plant holder with legs to lift the plants up and out of the water. The plants drink their water up through the pot's legs only when they need it, therefore, avoiding the danger of overwatering!
IDEAL FOR BUSY PLANT PARENTS, the plants will stay watered for around 10 days! The smart pots for plants also include a water level indicator to take the guesswork out of how much water to add. There is a special dial on top of each measuring valve, to measure the growth of your plant and track its progress!
ALL NATURA COCO SOIL AS POTTING MIX made of 100% organic coconut shell fibers – also called coco coir or peat pellet. It offers water retention and drainage, meaning your house plant gets the ideal balance of oxygen and water. Combine with regular soil for excellent pH regulation for your plants! Each pot comes with its own pellet of coco coir to help your plants grow faster and healthier.
GARDENIX DECOR DESIGNED the planters to function efficiently to take care of your plant so you don't have to. If you aren't completely satisfied with these Gardenix self-watering pots for indoor food plants, simply reach out to them directly to make it right.
#2 – TORSTEN Home Designer Self Watering Planter

EASY AND LOW MAINTENANCE INDOOR PLANTS AND FLOWERS – ONE REFILL CAN KEEP YOUR PLANTS WATERED FOR 3 MONTHS! – Using the latest self-watering technology, the self-watering planter pot design provides precisely the right amount of water for your indoor plants to keep them beautiful and luscious for longer. So no danger of overwatering.
A STYLISH ADDITION TO ANY ROOM IN YOUR HOME OR OFFICE – A timeless and minimalist design to suit your house decor that looks good in any room.
A SELF WATERING PLANTER POT AND WOVEN BASKET THAT FIT PERFECTLY TOGETHER – All of the Torsten Home self-watering planters and baskets are the right size for each other.
ACCENTUATE YOUR DECOR – A good-looking centerpiece to add to your decor.
7 INCHES HIGH BY 8 INCHES WIDE PLANT POT – Our large pots are specifically designed for a variety of food plants, herbs, and even succulents, and African violets if you like.
#3 – Ebbcowry Self Watering Pots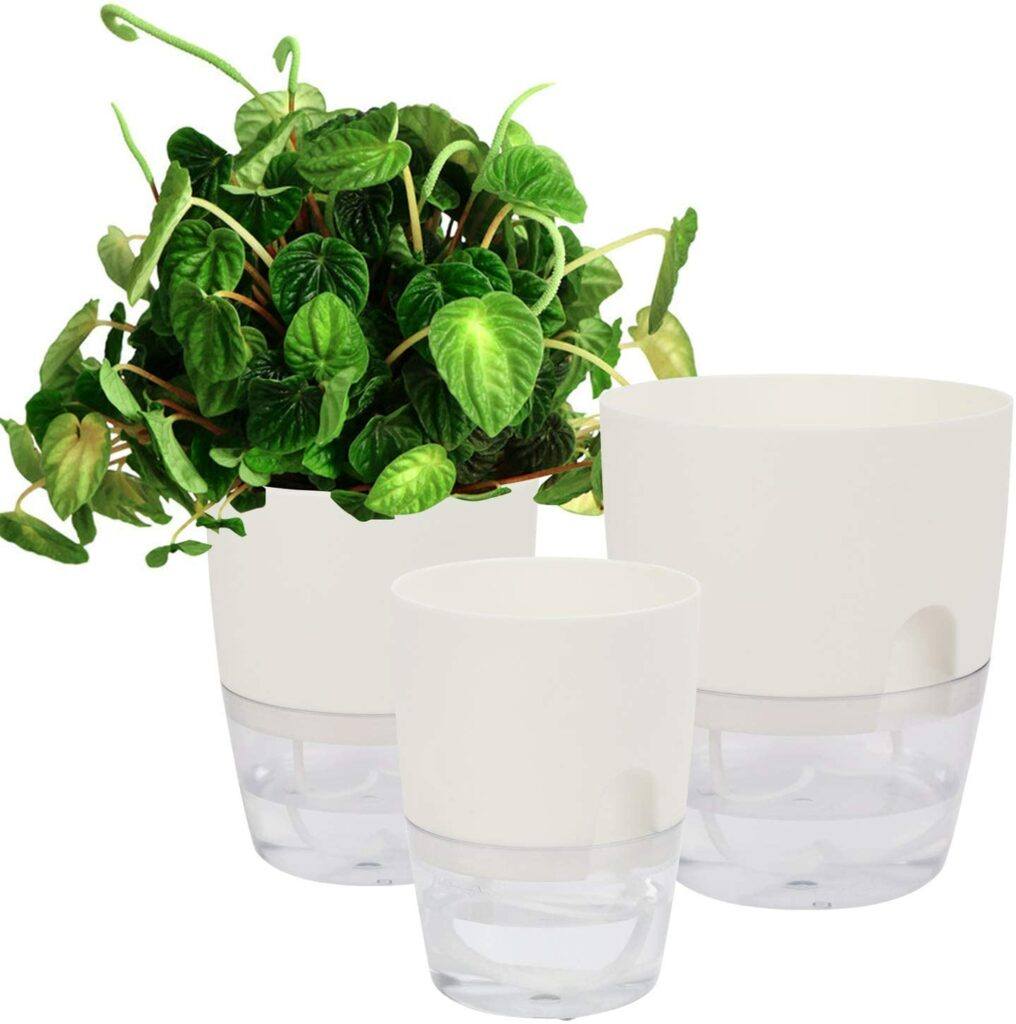 SELF-WATERING – These planter pots water and feed your plant for a week or more. The water is supplied by a 'wick' which is a piece of rope. The wick takes up the water and the plant takes up the water from the wick to its roots.
DURABLE PLASTIC – The pot is made of durable AS plastic material, for both indoors and outdoors.
TRANSPARENT SHELL – The double-layer design allows excess water to be stored at the bottom of this planter pot and can be seen through the transparent shell, indicating whether it needs topping up with water.

POT SIZES VARY – Sizes include 3.2inch(8.2cm), 4.1inch(10.5cm), 6.0inch(15.3cm), 9.2inch(23.5cm)
#4 – DeElf 6 Pack Self Watering Planter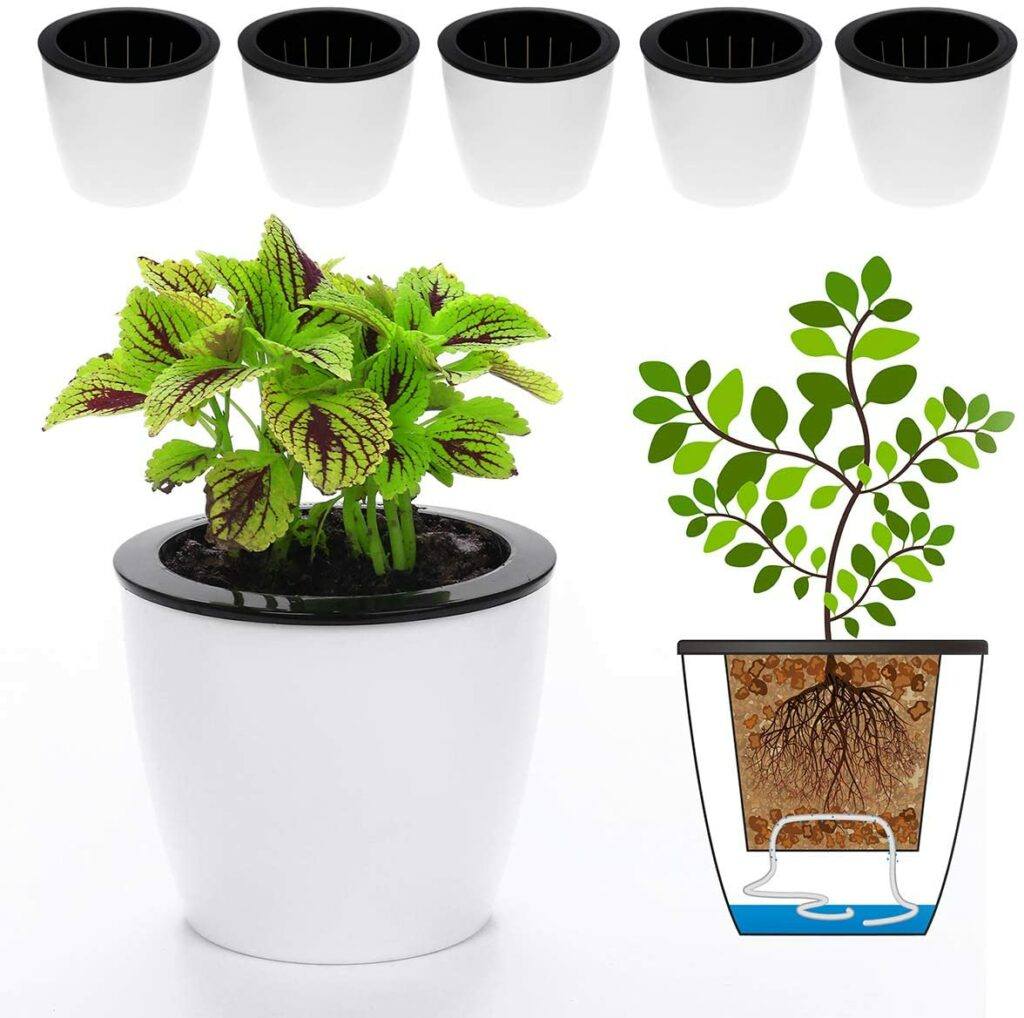 Self-watering: These 6.7 inches extra-large self-watering planters store water and feed your plant for days, and you don't have to water your plant frequently. The wick pots help you to take care of your plants when you leave your home or office for days
Special Design: This self-watering planter has a unique design tha leaves space at the bottom for your plant's root to breathe. (Take a look at our photos to successfully use these wicking pots).
Premium Quality: These 6 in self-watering planters are made of high BPA-free green plastic material, which is lightweight and durable. These lazy flower pots are very safe for your plants
Easy to Hang Your Plant: Many people use these 6.7 inches extra-large self-watering plants for their indoor golden devil's ivy, African violets, ocean spider plants, and orchids. These wick flower pots can save you a lot of time. You don't need to water them frequently. They are easy to hang with ropes.
Great for Decoration: The beautiful shape and design of these self-watering planters makes them suitable for home or office decoration. You can place the 6.7 inches extra-large wick flower pots wherever you want to bring natural green to your home or office.
#5 – Growneer Hanging Self Watering Planter Basket

WHAT YOU GET – 2 piece round plastic hanging planters come with 6 piece hooks. The hanging planter is the perfect decoration to add green herbs to your living space.
SIZE – Upper diameter 9.4", bottom diameter 6.1", pot height 5.3", total height 23.6" including the pot & chain. Plant small to medium-sized plants, such as cactus, herbs, succulents, ivy, or other plants.
SMART DESIGN – The water control device is installed to help plants grow healthily. A watering port is added to the bottom for easy watering and water drainage. The detachable plate provides extra space to reserve water, realize self-watering, and reduce watering frequency.
MATERIAL – Made of premium plastic material, a white hanging planter is suitable for indoor-outdoor use for a long time. Come with a detachable steel chain, you can hang the planter up or place it on your kitchen or table.
#6 – iGrowtek Self Watering Planter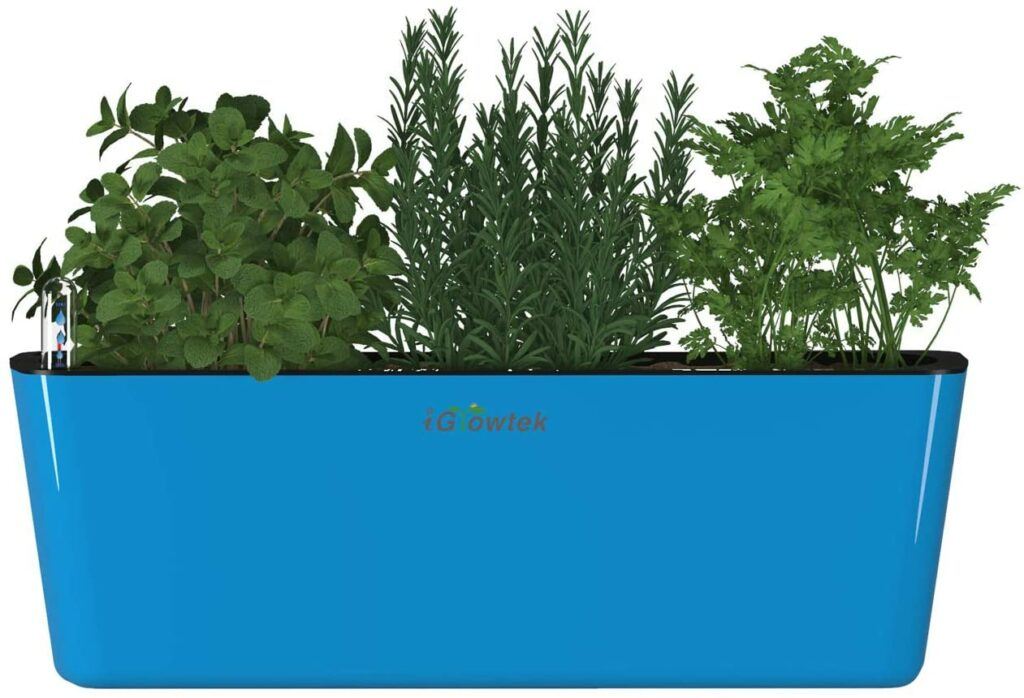 WATER LEVEL INDICATOR – The water level indicator allows you to observe the water level at any time. There is a special water injection port for easy water injection.
SELF WATERING – You don't have to water the plants every day, they can store enough water for a week or more, and the plants take only what they need so overwatering is not possible.
STYLISH AND SIMPLE APPEARANCE – It can be used in a variety of environments, so suitable for indoor or outdoor, balcony, window sill, tabletop, and so on.
MULTI-PURPOSE – Drain holes at the bottom. Suitable for indoor or outdoor.
MULTIPLE PLANTS – Big enough for several plants.
#7 – Crescent Garden Modular Large Trough Planter Box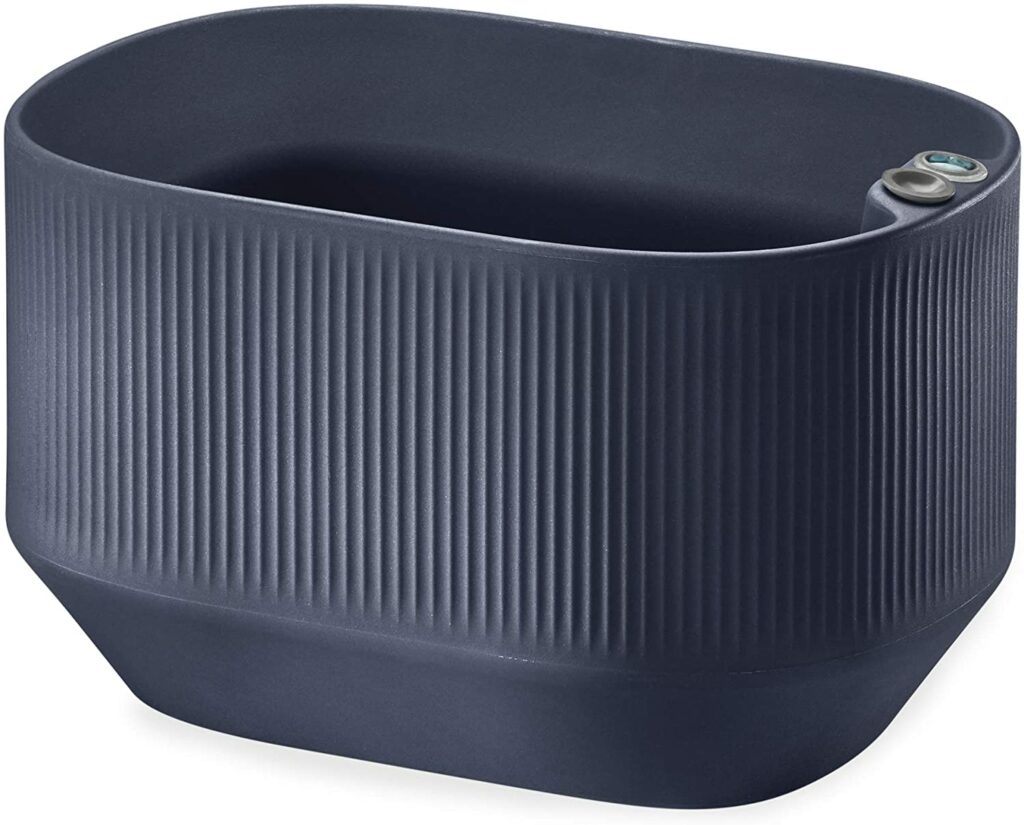 SELF-WATERING PLANTER – You can go away for up to 6 weeks without watering your plants as this unit will do it for you. The plants' roots take what they need avoiding under or over-watering. The water-level indicator lets you know when you need to fill the water reservoir.
WEATHER RESISTANT – The rectangular planter is frost and UV resistant and protected by a 10-year limited warranty against cracks and fades. The trough planter is designed with a double-wall for root protection against extreme temperatures.
STACKABLE PLANTER BOX – Combine and stack other Mod Planters for a unique space. The large trough box is designed with a textured detail that effortlessly complements any design style. This modern garden bed is perfect for growing vegetables and herbs, or creating stunning barriers, measuring 20″L x 14″W x 12″H.
LARGE CAPACITY – The Large trough holds 4.20 gallons of soil, 3.34 gallons of water. Drainage holes with plugs allow for easy indoor and outdoor use. Internal dimensions are 18″ x 7″ x 11.9″.
ECO-FRIENDLY & FOOD-SAFE – Our durable planters are made of 100% recyclable high-grade polyethylene plastic. Being lightweight makes them easy to move around and means we use less packaging and energy for transportation. 100% food-grade safe to grow your edibles.
#8 – Rectangle Self Watering Planter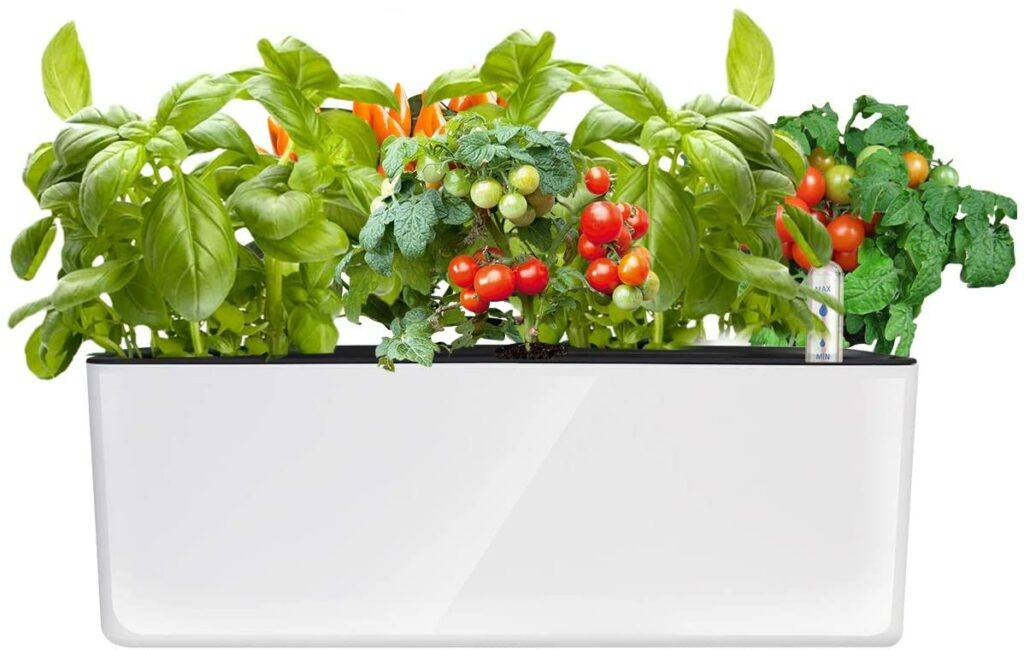 SELF-WATERING FUNCTION – It's self-watering! The handy water level indicator let's you know when and how much to water you're indoor herbs and house plants. Watering is reduced to weeks instead of days. Aquaphoric Planters work great for all plant types, flowers, herbs vegetables, tropical foliage, succulents and seed starting.
PLANTS LIVE LONGER – The unique passive hydroponic action creates the perfect balance of root zone water and oxygen, allowing plants to grow healthier and flourish. The perfect way to bring your patio and balcony to life
PP MATERIAL: Eco friendly and durable.
ROOTS BREATH, PLANTS FLOURISH – Simple design to make your plants get the right amount of water and space to grow better and faster.
GREAT GARDENING GIFT – Houseplants and especially herbs are good for you, plus they look great. Why not give the power of plants to someone you care about? It's easy to grow plants with an Aquaphoric planter. Anyone can do it.
#9 – Windowsill Rectangular Self Watering Herb Garden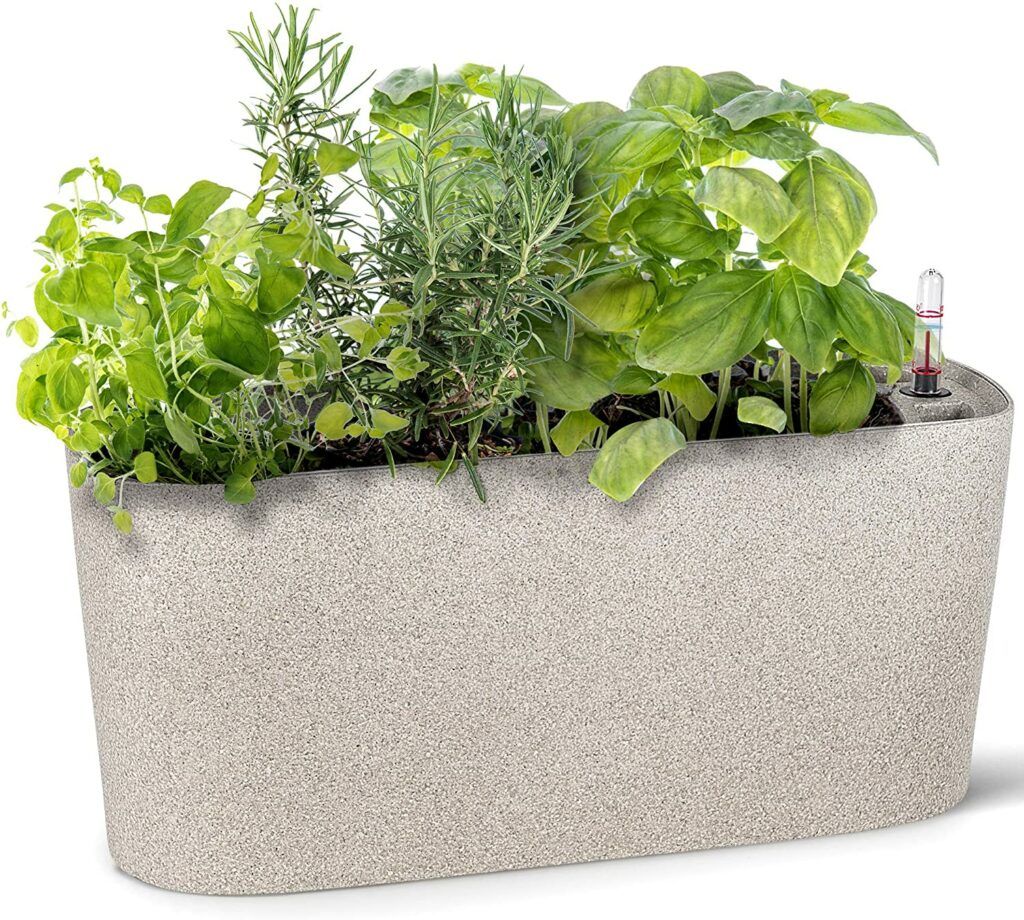 WINDOWSILL HERB PLANTER – Beautiful, versatile, and easy to use this rectangular planter for indoor plants make it easy to grow herbs, flowers, succulents, cactuses, and more all in the kitchen windowsill for quick access to especially to freshly grown herbs and vegetables.
RECTANGLE SELF-WATERING – A large water reservoir and water indicator make it simple to fill it up and let the plants grow without having to remember to water them every day.
LARGE EASY TO FILL DESIGN – The rectangular shape boasts optimized depth for proper root distribution and growth making it easier to add plants to your windowsill herb planter and let them flourish.
MODERN DURABLE STYLE PLANTER – The herb and succulent planter is crafted with high-quality, plant-safe plastic and with a beautiful stone surround finish to better match your kitchen or indoor living areas.
NATURAL DECOR – Adding plants to your kitchen or personal space creates a more natural, welcoming environment while also giving you options for adding fresh herbs to your meals.