Growing leafy green food without soil, and in a clean and efficient manner right from your kitchen benchtop! Hydroponics is the way to do it and that is why I am bringing The 3 Best Indoor Hydroponic Gardening Systems for Food in 2021.
Hydroponic food growing systems are one of the safest and healthiest ways to grow your greens without harsh chemical intervention! The herbs and leafy greens sit in a basin of liquid nutrients and under grow lights which provide everything the plants need to grow to maturity! The system can be set up on the kitchen bench plugged into a power socket for your ultimate convenience.
So, let's get right into it!
The 3 Best Indoor Hydroponic Gardening Systems are…
AeroGarden Black Harvest Indoor Hydroponic Garden
Click and Grow Smart Garden 3 Review
VegBox Hydroponic Garden Review
#1 – AeroGarden Black Harvest Indoor Hydroponic Garden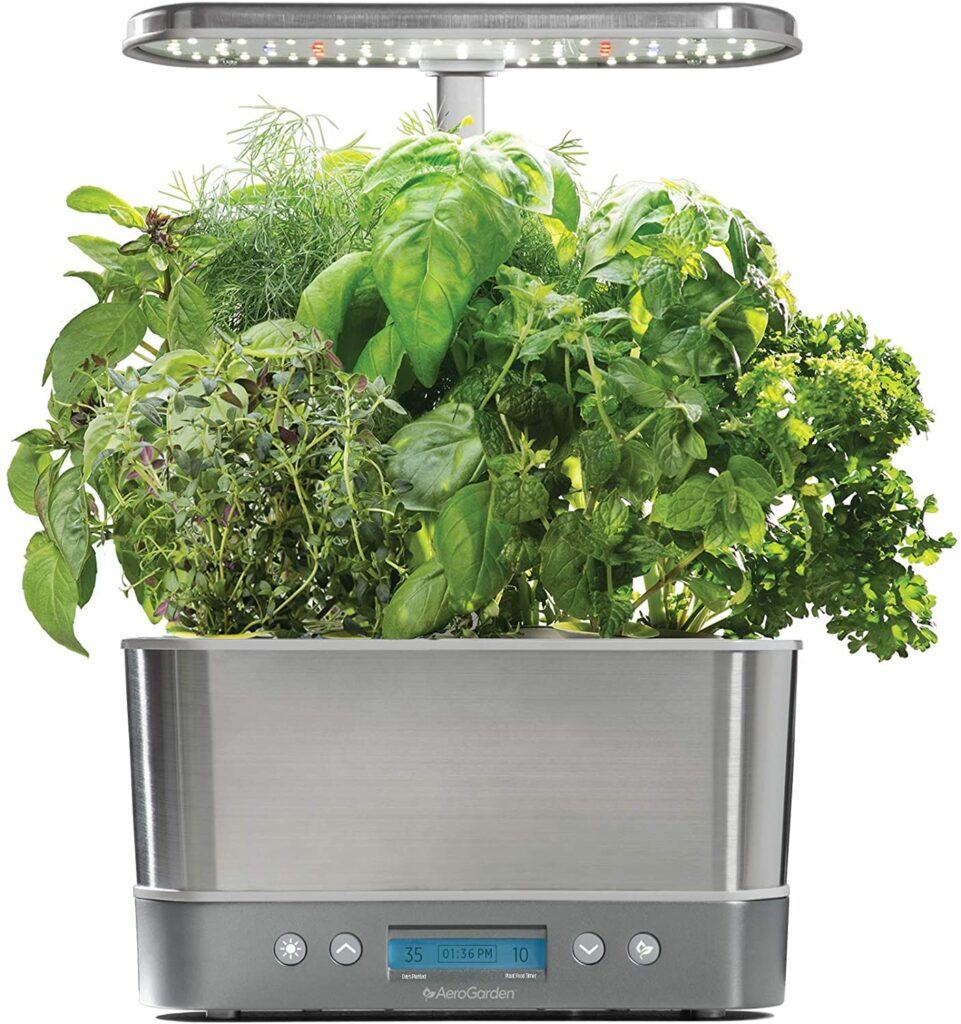 It INCLUDES GOURMET HERB SEED KIT (6 POD) – The seeds include Genovese Basil, Curly Parsley, Dill, Thyme, Thai Basil, and Mint. It also comes with a 3oz bottle of patented, all-natural plant nutrients that will last a full season.
PLANT TO PLATE – Plant up to 6 plants at a time and up to 12 inches in height. Everything grows in water and no soil needed.
EASY TO USE – The control panel tells you when to add water, reminds you when to add plant food which is included. The hydroponics growing system lights automatically turn on and off. But the water must not make contact with the hot LED Grow Lights. It's the lights that provide light and warmth as the sun does if outside.
LED GROW LIGHTS – are high performance, full Spectrum 20 watt LED high efficiency grow light system is specifically tuned to the needs of the plants by maximizing photosynthesis, resulting in fast and natural growth and an abundant harvest.
IN-HOME GARDEN SYSTEM – Grow fresh herbs & veggies all Year Round in this indoor hydroponic garden system.
#2 – Click and Grow Smart Garden 3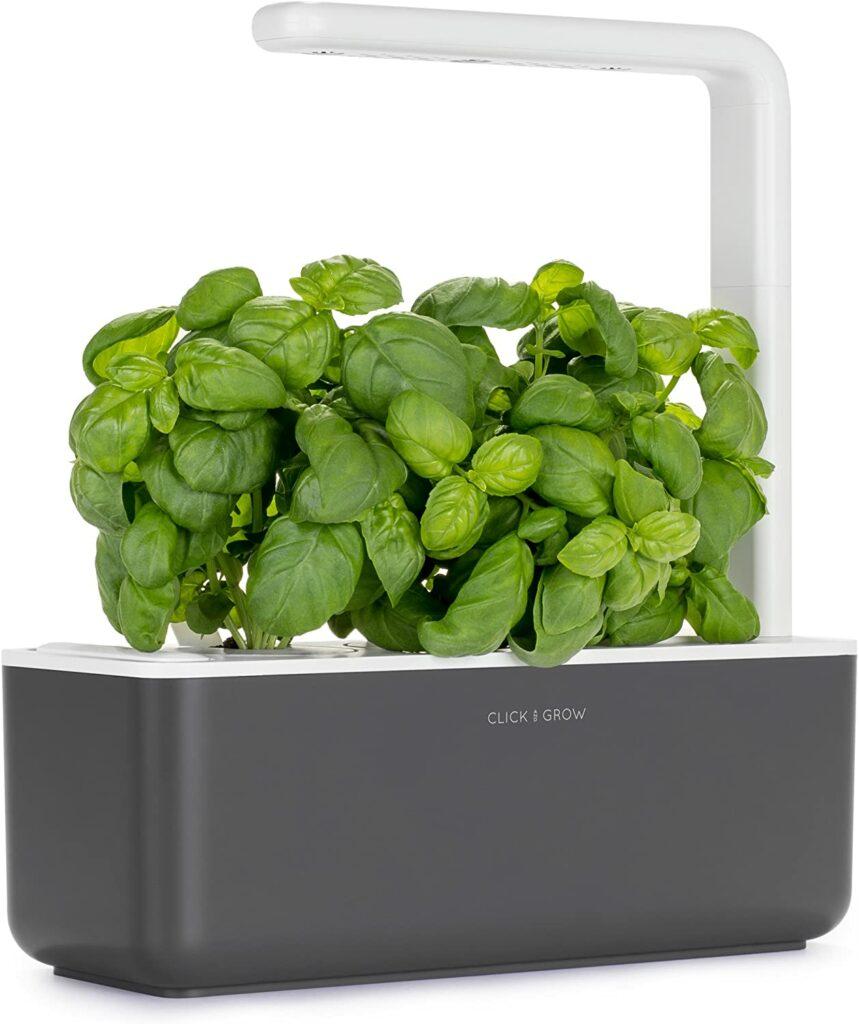 Growing Fresh Herbs and Vegetables Indoors under energy-efficient LED grow lights ensures your plants thrive no matter what the weather is doing outside.
Get Started Growing Right Away after dropping in the plant pods that are included, then fill the water reservoir and plug the self-watering planter into a power socket and you're good to go.
Explore New Plants: Choose from over 50 pre-seeded plant pods for your herb garden like cilantro, basil, lavender, wild strawberries, thyme, and even chili peppers.
Grow a variety of food plants in the plant pods. No green thumbs required!
Use the system as your own Plant Nursery. Just transplant your herbs and veggies once grown to your favorite wall, hanging garden, or window planter indoor or out.
#3 – VegBox Hydroponic Garden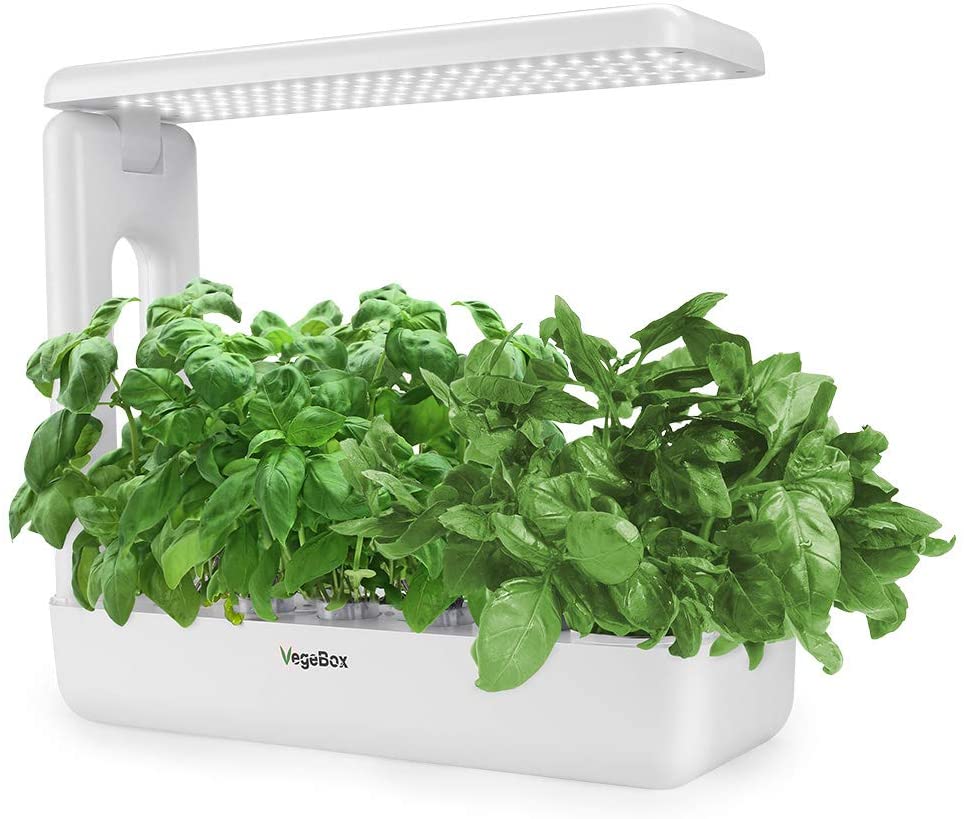 VegeBox has SMART SPECTRUM & NEW 4-IN-ONE New light Technology. Vegebox herb garden kit indoor provides 22W powerful LED lamps to take care of your indoor garden more high-efficiency and helping your plants to grow 1.5 times faster than similar indoor herb garden kits.
VegeBox-EASY CARE, AUTO TURN ON/OFF, 2L LARGER WATER TANK. VegeBox has a smart LED control system, setting the perfect light time to help your plants photosynthesis, then auto turn off for your plants' respiration to produce more nutrition. You only need to add 1 times the water per 2 weeks.
12 PLANT POTS AND 135°WIDE ANGLE LIGHT ADJUSTMENT. VegeBox herb garden indoor kit provides more planting pots up to 12 pieces, giving you more plant choices.
100% SOILESS CULTURE. Just follow the instructions from sowing seed to harvesting.
FULL ACCESSORIES & GOOD AFTER SALES. Vegebox hydroponics growing system provides all the tools you need such as a measuring cup, tweezer, sponge, seedbox, plant hole cover & nutrient water. This indoor herb garden is backed by a 100% replacement warranty and a 30-day money-back guarantee. In some cases, seeds are not included due to import restrictions in some countries.
Meet the Home Food Gardening Blogger here!